Buying a Franchise in Canada can be both attractive and risky option at the same time. For a foreign entrepreneur or business owners it seems an interesting pathway to immigrate to Canada and get a permanent residency (PR) status. Starting a whole new venture can be difficult and risky for a business immigrant due to lack of experience in the new market. Although, investing your funds in buying a franchise allows you to build on a brand that is already well-known and profit making business in the track records that gives you ultimate success in Canada.
In this blog let's learn more about how to buy a profitable franchise and what are the pros and cons of buying a franchise. We will also be sharing some tips for choosing a right franchise option.
WHAT IT MEANS TO OPEN A FRANCHISE IN CANADA?
A franchise business is the one where the franchisor (Person who is selling it) licenses its trademark and registered brand to the Franchisee (Individual who is willing to buy) in exchange for a franchise fee and allows to operate that as an extension of an existing business. They also set some strict operating rules for the franchisee to maintain the standards of operation of their brand.
According to Canadian Franchise Association 'Canadian franchises contribute over $100 billion CAD per year to the Canadian economy and create jobs for more than 1.9 million Canadians. Franchising in Canada is the 12th largest sector of the economy'.
FACTORS OF CHOOSING A RIGHT FRANCHISE FOR PROFIT & IMMIGRATION.
While buying a Franchise in Canada, there are several factors that an entrepreneur needs to keep in mind before investing their funds. You should carefully be choosing a profitable franchise and consider immigration related factors while selecting one.
There are some tips to choose the right Franchise option
RESEARCH AND SELECT THE RIGHT BUSINESS: Spend time before deciding on anything, do your complete research about the franchises you have shortlisted. Search about the industry success rate in Canada. Some entrepreneurs prefer to invest in established franchise with a buildup customer base and brand name. While some may want freedom and flexibility which comes with an emerging franchises. Take out some time and review all the pre-requisite conditions that come with that franchise. Carefully explore the demographics and customer base in your chosen location. Check out the actual sales report of past years.
SUPPORT FROM FRANCHISOR: A franchise gives you support to run your business smoothly. This is one of the benefits of purchasing a franchise. Although all franchisors provide support in marketing, not all franchises require that you actively engage in sales. Some franchises allow customers to come to you after you have set up your business, such as convenience stores, coffee shops, and pizza places. Some franchises require you to actively participate in sales (usually service franchises). Ask about the support available to franchisees and the trick of the trade to success in their business.
BUSINESS INTEREST: Focusing on profit is not the best way to go. Instead, choose a sector that you are passionate about and have a good understanding of. You should also reflect on your strengths and make sure they align with those needed to run a successful franchise in this industry. Keep in mind the culture of your franchise and ensure that you and your business are a good match.
EVALUATE YOUR FINANCES: You should assess your financial situation before you decide on a franchise. This will ensure that you can cover the ongoing and upfront costs. It's difficult to find a business that is profitable and has real potential for less than $250,000. A business that is less than this is unlikely to be a profitable one. It is true; however, you might be able buy amazing businesses at a very affordable price due to the COVID pandemic.
SIGNING THE CONTRACT: Carefully review and read all the terms and conditions stated on the contract. The contract will usually include details about the brand's trademarks and intellectual property, details regarding royalty payments, marketing and advertising expenses, training or any other support the franchisor will provide, specifics about your location, whether your location is exclusive or protected, the duration of the agreement, and the criteria and process for terminating the agreement. We highly recommend you to hire a lawyer or a specialist to review the contract before you sign it.
APPLICATION PROCESS FOR BUYING A FRANCHISE IN CANADA.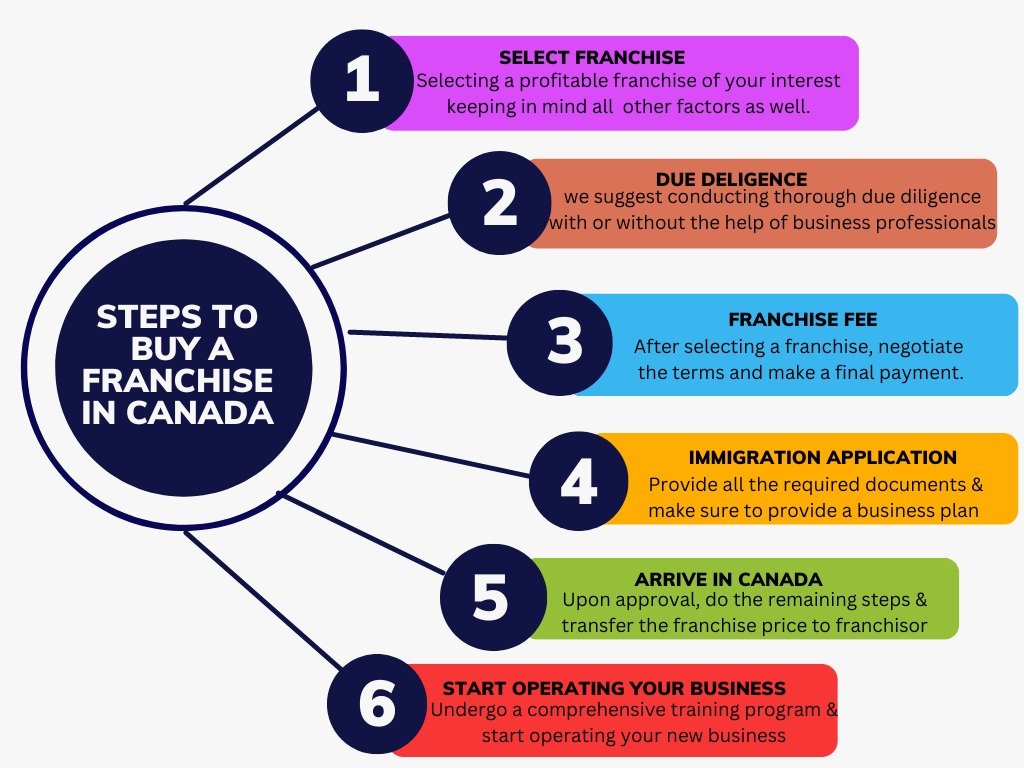 PROS & CONS OF BUYING A FRANCHISE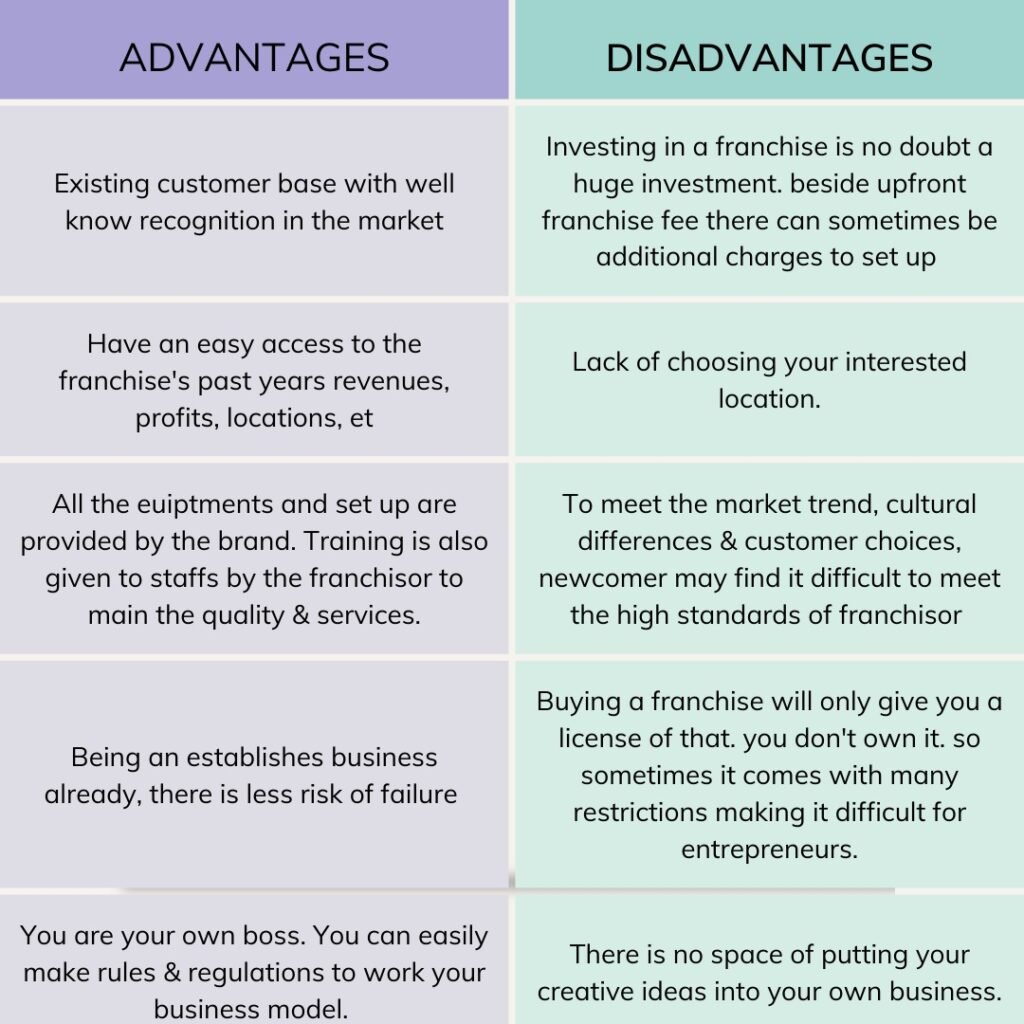 WHY LEBIZ SHOULD BE YOUR PREFFERED PARTNER FOR SHORTLISTING YOUR FRANCHISE OPTION?
Lebiz has tie-up with biggest & largest franchisors of Canada. We're your single stop solution for any type of Franchise options you are interested to invest your funds in. We have a team of Financial experts who will walk you through the entire process of franchise role out. We have years of experience in assisting our clients to pursue their dreams to obtain a business in Canada. Our team knows and understands how to present your business model to Franchisor & IRCC to meet their operational satisfactions. We can assure you a profitable business from Day 1. Our client services ensure that the franchise offering to our clients, as well as their support structure are aligned with the brand promise, their goals, and their objectives.