Getting a refusal from IRCC for Canadian visa can be disappointing, It seems that your dreams has been shattered, But wait there are Some measures you can take after a refusal. These steps vary from type of Visa you have applied for.
Canadian Embassy provides a letter with reasons as to why your application has been rejected!
Although most of the reasons are generic except some exceptions !!

Lets Discuss what can be done after refusal from Canadian Authorities !!
Returned vs Refused application:
RETURNED: IRCC will only return your application if:
You did not provide sufficient documentation
IRCC received your application before the program was open
The quota was already full.
You will get a refund for any government processing fees you paid if your application was returned.
REFUSED: IRCC will only reject your application if does not meet the minimum eligibility requirement for the visa you have applied for. Moreover, they can also refuse to process your application based on Medical or Criminal ground.
Canadian Visa Rejections:
You should follow the standard protocol to review the reasons why you were denied a Canadian visa. You may be eligible for reconsideration or an appeal if you're certain that there wasn't anything missing on your original application. You will want to speak with an Immigration Consultant to understand your options for appealing the decisions. Below is the most Common reasons for Visa refusals and their re-application process.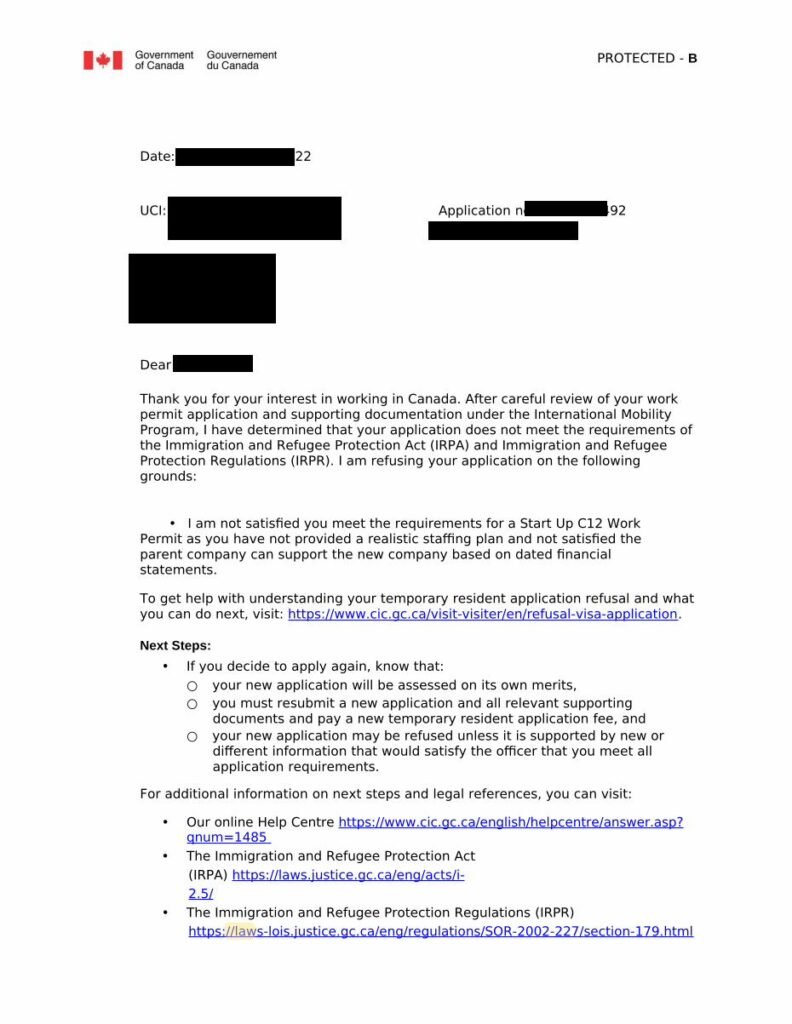 Canadian Study Visa Refusals:
Student/study visa for Canada are often refused due to some common reasons like
Inadequate financial stability
Intention of not leaving Canada once the program ends
Lack of travel history
Poor academic performance
Fudged documents or letter of acceptance
In rare case, IRCC may refuse your application if they don't see a connection between your choice of program and your previous educational background. You can also get a refusal due to unexplained SOP. This can be resolved if you clearly state the reason for choosing that program in your personal statement.
Canadian Visitor Visa Refusals:
According to IRCC database 2022, Canadian Visitor visa has a refusal rate of 51% if applied from India. The main reasons for the refusal can be unclear reason of visit, insufficient proof of funds, no previous travel history, and previous overstaying history in Canada or sometimes refusals from other countries.
Also, it can be difficult to ensure that all documentation supporting the application is included, especially when there are so many personal, family and work details. There is no face-to-face interview for the visitor visa application process. So the decision of the Immigration officer is completely dependent on the sufficiency and availability of documentation attached to your application.
Canadian Work Visa Refusals:
There are very limited chances of getting a denial for work permit of Canada. Even so, there are exceptions in which work permit can be refused due to some reason s:
Fudged documents like salary slips or experience letter
Failure to prove finances to sustain yourself for a quarter in Canada
Criminal or judicial proceedings outstanding in the native country
Fake LMIA letter
Closure of the company from which LMIA was issued
Process Walkthrough for Re-application
GET CAIP NOTES: The CAIPS Notes (Computer Assisted Immigration Processing System), are electronic notes that contain the information of the visa applications. The CIC, or Canadian High Commission, maintains accurate documentation about the details of the applicants. These details are related to the location of the visa application submission, assessment details and the remarks made by the visa officer about the application. The CAIPS notes are useful in cases where the application was refused. You can find information in the notes about why your application was declined by the authorities.
RECTIFY THE INITIAL MISTAKES: There is always a chance to correct your mistakes. If the reason for your visa application is due to some mistakes in your application then you can rectify the issue making the necessary changes. You should review the information provided and send the supporting documentation or data required. Make sure to give a reason why the new information wasn't provided in your original application.
APPEALING FOR REVIEW: If your application was refused by Immigration, Refugees and Citizenship Canada (IRCC), the applicant can put an appeal for reevaluation. Candidate can demand the Court to review the visa denial if they are certain there wasn't anything missing out in their application. Court application for judicial review can give you valuable insight into the reasons your application was rejected. This is commonly known as a "Rule 9 letter." The refusal letter issued by IRCC does not contain explanatory statement for your visa denial. You can request the Court of Canada to obtain the reasons of the officer and gain a better understanding of the reasons your file was rejected and how the officer rated the evidence submitted supporting your application. If you win at court review, your application will be sent back to IRCC to be reviewed by different officer. You are also allowed to make amendments in your application. Generally, many applicants don't know that they can access the Federal Court of Canada. It is important that you understand that even if you do not reside in Canada, an immigration lawyer can still be retained to assist you with the process.
CONSULT WITH PROFESSIONALS: There is a fair chance that u didn't appoint immigration lawyer if your visa was rejected. You must consult an immigration specialist if you want this decision of IRCC to take an overturn. It is crucial that you understand what evidence or lack of evidence led the officer to believe you would not return home if your visa was granted. To determine the reason you were denied your visa, an immigration lawyer can access your file. It can be complicated to understand the laws that govern Canadian visa rejection. You may find it beneficial to speak to an experienced immigration lawyer to provide the best advice and support for you case.
At Lebiz Canada, you will seek a professional guidance. We've years of experience assisting clients to avoid rejections or helping them if they have a denied visa for Canada. We are a
team of financial experts and have Senior CPA'S & Lawyers on board to assist you completely with your journey to Canada. If you're looking to hire professional services we're here to help. Book a consultation with our experts!!