Once you've decided to incorporate your business in Canada, and are now considering about whether you should incorporate provincially or federally. Being an entrepreneur, it is crucial to choose the jurisdiction where your business will be operating when incorporated in Canada. You most likely have a lot of questions, and a common one we hear is how to choose between federal vs. provincial incorporation.
In this Blog we will discuss what factors impact your decision whether you should incorporate your business federally or provincially.
What does it mean to incorporate your Business in Canada?
By incorporating a business, you legally separate the business from its owners (aka you). Your business's income is your income, so it is subject to tax at your personal income rate. It makes perfect sense that if your company earns a lot of profits, your personal income tax bracket will also rise. Incorporating your business will allow you to separate your income from the business and thus allow you to draw a salary.
Advantages of Incorporating a Business:
Defined Liabilities: Sole proprietors have unlimited liability and are always at risk. Incorporating a business limits your liability. It is important to ensure that your credit and personal assets are sound. An Incorporated Business is a separate legal entity from its owners. Therefore, a creditor cannot claim your personal property to repay any debt without a personal guarantee.
Lower Tax Rates: Incorporating a business provides tax benefits. Corporations in Canada are subject to a lower tax rate than individuals. This can help your business grow more quickly. Being a director, you can withdraw a salary from your company, which will then be taxed as your personal income. It may be advantageous to accept a lower salary and leave the money in the company. This will allow you to pay a lower income tax. Your business's incorporations can give instant credibility and attracts potential investors, suppliers, customers and lenders.
Raising Capital: Expanding a business is expensive. You will likely need credit or loans at some point. Or you can seek out investors or grants. Solo proprietors may have difficulty raising capital because lenders might not be willing to lend to an unincorporated company neither Investors will be willing to invest in businesses that cannot sell shares.
The next step in incorporating your business is to decide whether you want to do so federally or provincially.
Choosing between federal vs provincial incorporation
Provincial Incorporation:
By incorporating your business provincially, it means that you only conduct business in the province where you were incorporated. By incorporating provincially, your company will operate under the provincial laws that govern corporations in your area. Although the process of incorporating provincially is the same in all provinces, there are variations. It is best to familiarize yourself with the requirements in your province.
Your business name is protected when you are incorporated provincially. This applies only to that province. It is possible for another company to be incorporated in the same name in different province as you, and it is completely legal.
Incorporating provincially is a better option for small business owners that don't plan to do business in Canada. You only need to file your documents at a provincial level when you are incorporating provincially. Provincial incorporation is time friendly and cost effective process and requires less documents.
Key Points:
Provincial incorporation means only conducting business in that province
Provincial incorporation protects your business name in that province only
Provincial incorporation is usually less expensive and time consuming than federal incorporation
Federal Incorporation:
Federal incorporation permits you to do business across Canada meaning in all of the provinces and territories. The federal incorporation of Canada is governed under Corporations Canada It offers a greater protection. Federal incorporation involves more paperwork than province incorporation. The initial cost for incorporation is also higher than that of provincial incorporation.
Even if your federal incorporation is granted, you will still need to register in the province where you reside. If you own an Ontario business, for example, you must file with Corporations Canada as well as the Province of Ontario. However, if you incorporate federally, you'll be allowed to do business anywhere in Canada.
Federal incorporation provides federal name protection. This is a significant benefit for many business owners and one of the main reasons why they choose federal incorporation.
Key Points:
Federal incorporation allows you to conduct business across Canada
Federal incorporation protects your business name across Canada
Federal incorporation is more expensive and time consuming than provincial incorporation
If you incorporate federally, you'll still need to incorporate your business in the province in which you primarily operate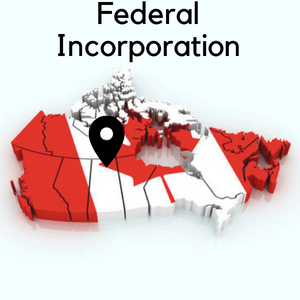 Final Conclusion
It can be difficult to make the right decision about whether or not you want to incorporate your company. It is a good idea to seek out advice from colleagues and other business owners. No matter if you are incorporating federally or provincially, you will most likely need guidance.
Here at Lebiz we've helped many entrepreneurs settling their business in Canada. If you wonder on how to incorporate your business in Canada, Contact Us!!