The Express Entry system in Canada continues to be a popular pathway for skilled immigrants seeking to make Canada their new home. The Immigration, Refugees and Citizenship Canada (IRCC) conducted Draw 265, inviting a total of 3,000 candidates to apply for permanent residency in Canada. This all-program draw marks another significant step in Canada's commitment to attracting talented individuals from around the world. In this blog post, we will delve into the details of Express Entry Draw 265 and its implications for prospective immigrants.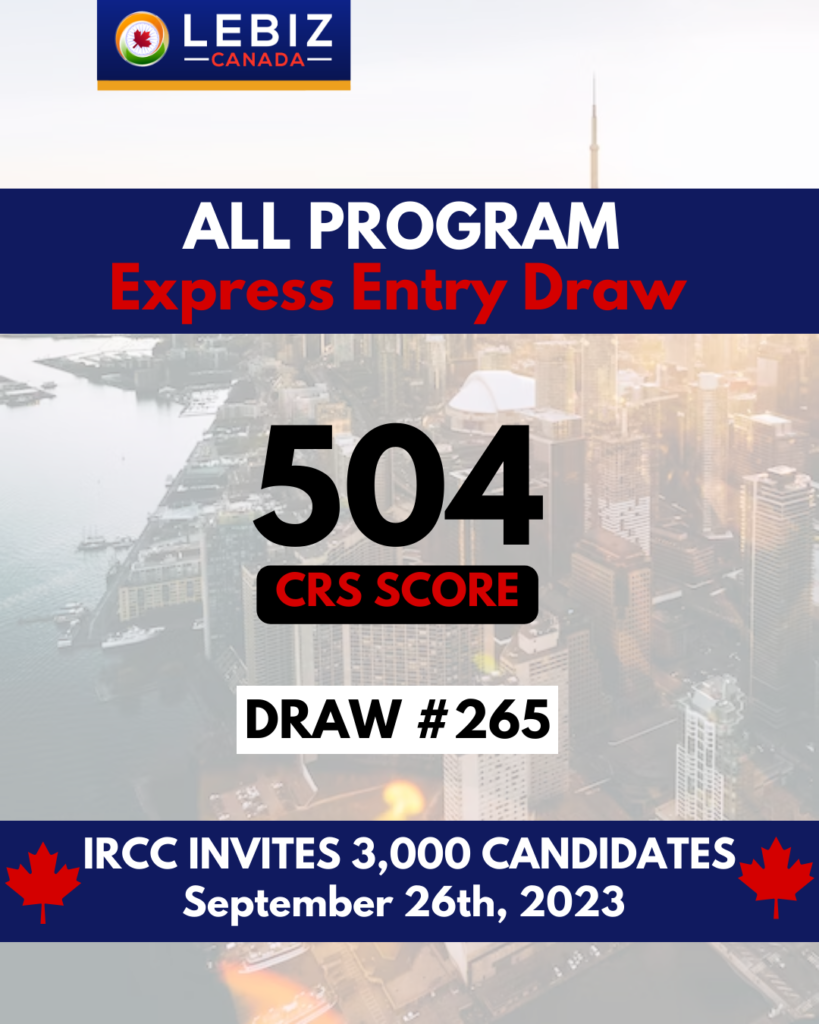 Express Entry System Overview
The Express Entry system is a points-based immigration system used by the Canadian government to manage applications for permanent residency. It covers three main economic immigration programs: the Federal Skilled Worker Program (FSWP), the Federal Skilled Trades Program (FSTP), and the Canadian Experience Class (CEC).
Express Entry Draw 265
Express Entry Draw 265, which took place on 26,sep 2023, was an all-program draw, meaning that candidates from all three economic immigration programs were eligible to receive an invitation to apply (ITA) for permanent residency. The draw issued a total of 3,000 ITAs to candidates with the highest Comprehensive Ranking System (CRS) scores.
The CRS score is calculated based on various factors, including age, education, work experience, language proficiency, and adaptability. The IRCC regularly conducts draws to issue ITAs to candidates with the highest CRS scores, allowing them to proceed with their permanent residency applications.
Implications for Prospective Immigrants:
Express Entry Draw 265, with its all-program approach and invitation of 3,000 candidates, offers several implications for individuals aspiring to immigrate to Canada:
Increased Opportunities: By conducting an all-program draw, the IRCC provides equal opportunities for candidates from different economic immigration programs. This allows a broader range of skilled workers to apply for permanent residency and enhances diversity within the Canadian immigration system.
Competitive CRS Scores: With a limited number of ITAs issued in each draw, candidates with higher CRS scores have a better chance of receiving an invitation. As a result, prospective immigrants need to focus on improving their CRS scores by maximizing points in various categories, such as language proficiency and education.
Comprehensive Preparation: As the competition for ITAs intensifies, candidates must ensure they have a well-prepared application that showcases their skills, qualifications, and potential contributions to the Canadian economy. Seeking professional guidance and understanding the requirements of the Express Entry system can significantly enhance their chances of success.
Conclusion:
Express Entry Draw 265, inviting 3,000 candidates in an all-program draw, exemplifies Canada's commitment to attracting skilled immigrants from around the world. The draw offers increased opportunities for prospective immigrants and emphasizes the need for competitive CRS scores and comprehensive preparation. As Canada continues to prioritize economic immigration, the Express Entry system remains a key pathway for skilled workers to fulfill their aspirations of living and working in the country.