LMIA – Labour Market Impact Assessment is an official document required by the Canadian employer who is willing to hire a foreign employee. Any company who is hiring through the Temporary Foreign Worker Program needs to get a preapproval from government before accommodating international talent.
In this guide you will learn more about LMIA, requirements for its procedure, eligibility, certain exceptions and much more.
What is LMIA –Canada?
LMIA stands for Labour Market Impact Assessment. It is the preapproved government official document issued by Employment and Social Development Canada (ESDC) evaluating the effectiveness of recruiting the foreign immigrant on domestic employment market. If ESDC analyses that there isn't any qualified Canadian citizen or permanent resident to fill that position, and there is a genuine requirement for that international employee, a Positive LMIA will be issued to the recruiter. A Negative LMIA indicates that a job must be taken by the Canadian Citizen or permanent resident.
Step – by – Step LMIA process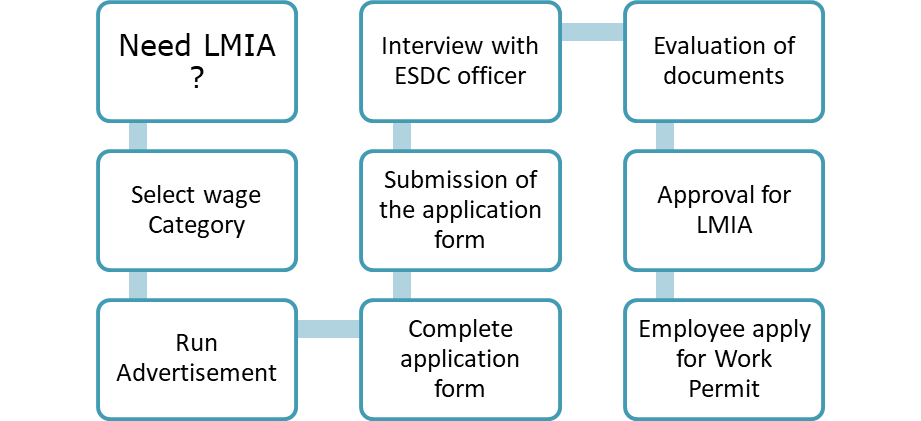 Upon the approval of LMIA, the worker now will have to apply for a work visa to obtain a Canadian Work permit. Following are the documents required for Work visa application:
Job offer letter
Signed employment contract
LMIA number
Copy of LMIA
LMIA Requirements
There are 2 main streams under which an employer categorizes the worker:
Recruiting High-Wage Workers: Hiring a high wage foreign worker requires a transition plan as an important document along with the LMIA application. The transition plan indicates the employer's commitment to the foreign employee during their employment. If the employer is paying a foreign national with high wage than the province's median wage, then it is considered to be a high wage worker for LMIA purposes.
| Province/Territory | Wages prior to April 30, 2022 | Wages as of April30, 2022 |
| --- | --- | --- |
| Alberta | 27.28 | 28.85 |
| British Columbia | 25.00 | 26.44 |
| Manitoba | 21.60 | 23.00 |
| New Brunswick | 20.12 | 21.79 |
| Newfoundland and Labrador | 23.00 | 24.29 |
| Northwest Territories | 34.36 | 37.30 |
| Nova Scotia | 20.00 | 22.00 |
| Nunavut | 32.00 | 36.00 |
| Ontario | 24.04 | 26.06 |
| Prince Edward Island | 20.00 | 21.63 |
| Quebec | 23.08 | 25.00 |
| Saskatchewan | 24.55 | 25.96 |
| Yukon | 30.00 | 32.00 |
Recruiting Low-Wage Workers: if an employer is planning to hire a low-wage worker, then there is no need to submit a transition plan. However, the ability to employ foreign workers will depend on a limit which will be set by Government of Canada places to restrict the amount of low-wage temporary foreign employees. The employer must also take care of transportation and housing cost of workers recruited at low wage positions.
Eligibility Requirements for Employer
Is there a genuine shortage of labour which cannot be accommodated by Canadian resident?
Does the Canadian employer taken the appropriate recruiting efforts to recruit a local Canadian employee?
Are working conditions in conformity with provincial, municipal and federal regulations?
Does the salary offered represent an accurate representation of average wage for that job within the geographic area?
Is an employee able to fulfill the duties of their job and share their experience with Canadians?
If the employer is involved in any ongoing dispute over employment?
Does the salary you are aiming for correspond to the median salary for the profession and region?
Can hiring a foreign-born worker be beneficial to the creation of jobs as well as retention in Canada?
Average LMIA processing timelines
ESDC may take 10 business days to response or sometimes it can be extended up to few months. Canada is experiencing a huge number of LMIA cases in 2022. This may cause delays which is particularly evident within the Temporary Foreign Worker Program (TFWP)
| Application Type | Average processing time |
| --- | --- |
| Global talent stream | 9 business days |
| Agricultural stream | 15 business days |
| Seasonal agricultural worker program | 5 business days |
| Permanent residence stream | 22 business days |
| In-home caregivers | 24 business days |
| High-wage stream | 34 business days |
| Low-wage stream | 37 business days |
Lebiz Canada can help you with your LMIA pathway
Getting a LMIA can sometimes be very difficult and puzzling task if you are not having deep root knowledge of the program. Lebiz will help you obtain LMIA in an expedite manner with ease. There are multiple challenges while finding a job in Canada but we are here to help you with that. Our financial experts will give you full handholding throughout the process and will assist you for LMIA or TFWP application.
For more information on securing a LMIA work permit of Canada, speak to our senior financial experts and lawyers. They will help you choose best immigration pathway available according to your profile.