Sean Fraser, Canada's immigration minister addressed the progress Canada has made this year in reducing the backlogs of applications that were there in the inventories of IRCC caused by travel restrictions and office closures due to COVID-19 pandemic.
Immigration, Refugees and Citizenship Canada (IRCC) has implemented diverse measures to improve the system of immigration in Canada to ensure that it helps sustain the country's economic system and the communities. Canada has offered more efficient processing services, such as the reduction of wait times and upgrading services to ensure better functioning.
HIGHLIGHTS:
IRCC break all-time record in processing of Canada Visa applications in 2022.
IRCC took efficient measures in improvising the processing services
Nearly 5 million of applications were processed this year in Canada.
It is reported that the Canadian authorities have revealed that the country had an all-time record in processing applications for immigration. As per that of the Government of Canada, the Immigration, refugees, and Citizenship Canada (IRCC) has decreased the backlog for pandemics by more than half a million applicants in just four months. It was also revealed that by the end of November 2022 IRCC processed around 4.8 million applications. This is nearly double the 2.5 million that were processed in the same timeframe in 2021.
Number of applications that were processed in 2022 based on visa-category:
| | |
| --- | --- |
| TYPE OF VISA | NO. OF APPLICATIONS |
| Study Permits | 670,000 |
| Work Permits | 700,000 |
| Visitor Visa | 260,000/month |
Apart from the above-mentioned figures, Government of Canada has revealed that the country welcomed an all-time record of 405,000 permanent residence residents by 2021 and the country is still close to achieving the goal of more than 431,000 new residents by 2022.
"Our actions are ensuring that we can continue to welcome and support newcomers who come to Canada to work, study, visit, or settle here. It is through the dedication and hard work of those who administer our immigration system, and our willingness to modernize and adapt, that we are able to uphold Canada's reputation as a welcoming and inclusive country" says the IRCC minister Sean Fraser.
IRCC efforts to modernize and how they achieve it:
The year 2022 was challenging for IRCC as it faced difficulties to cope with the processing of plethora of applications for various Canadian Visas. The huge task was managed by taking a few wise actions that increased the effectiveness.
To acknowledge, IRCC has implemented changes to address operational inefficiencies, including digitalization of application. For instance, Citizenship applications are completely digital for everyone older than 18 years of age and of the 318,000 citizenship applications on the books only 27 percent of them are considered to be backlog.
In addition, the department revealed that in August they would employ 1,250 new staff at the close of the year to help in processing applications.
As of now, IRCC aims to process 80 percent of visa requests in line with the guidelines for service. This will be accomplished across all business lines in Canada. That means the usual timeframe for processing different kinds of Canadian visas will be met indefinitely.
The country continues to improve the processing services further to create a more secure immigration system, allowing new immigrants to Canada.
HIGH HOPES FOR CANADA IMMIGRATION!
Here's an idea of the number of new immigrants IRCC plans to introduce between 2023 and 2025.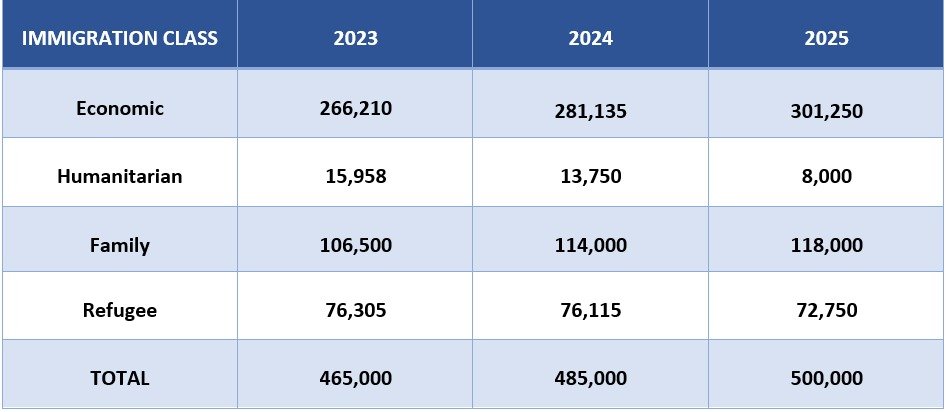 To read more on Canada's New Immigration level plan 2023-2025 visit 'Canada's Immigration Plan 2022-2025'
If you are also looking to migrate to Canada, book a strategic meeting with our experts!